---
Blog
Posted by Aourow LED on
As of 2020, Halogen lightbulbs will become strictly regulated within Australia, much like incandescent today. Lighting suppliers will no longer be able to import old lighting technology, and halogen will be phased out. This push by the government to move toward more energy efficient LED lighting means that replacing your lights is going to mean figuring out which LED alternative is best for you. Smart LEDs, retrofit downlights, the options are growing every year. With so many options and brands on the market, how do you decide what's best for you? Below, we'll go over some alternatives for the most...
---
Posted by Aourow LED on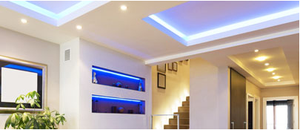 A look at the rapid growth of LED technology To the everyday consumer, it may seem ridiculous for a product you purchased a year ago to be discontinued the next, replaced by a newer, but not identical model. If we were talking about phones or cars, the answer might be obvious – the result of money hungry corporations eager to sell the next big thing. But, when we're talking about lighting, specifically LED lighting, it's a different story altogether. led lighting is an ever-changing, ever-growing market. Since 2016, demand for more energy efficient lighting from climate conscious consumers has driven...