---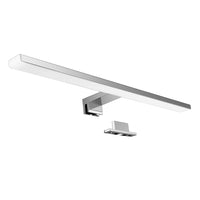 Sale
UPC:602519145342 
The bathroom mirror light gives your bathroom and your dressing room a new ambience. Makes it easier and more convenient for you to make-up and put on your clothes after washing.

Please note:
1. No on / off switch or plug of the lamp
2. These mirror lamps are not dimmable.
3.The driver is protected from water mist and steam in the bathroom.
4.Professional installation is recommended.

LED bathroom mirror lamps at a glance
Power: 10W
Comparison value: 65W-90W
Material: polished chrome (stainless steel) + plastic (acrylic)
Dimensions: 500mm*105mm*38mm

Electrical specification
Operating voltage: 220-240 V AC, 50 / 60Hz
Rated power: 10W
Protection class: IP44

light specification
Nominal / nominal luminous flux: 820lm
Rated color temperature: 4000K-4500K (neutral white)
Rated color rendering index (CRI):> 82Ra
Beam angle: 180 °
Start time: <0.02s
Warm-up time: immediately full light
Lifetime:> 35,000h
Mercury content: 0.0 mg
Certificates: CE TÜV RoHS

Delivery content:
1 x mirror lamp
1 x threaded pin
1 x users manual
1 x box
Feature:
【Easy to install】:Aourow mirror light has Two pre-drilled and removable brackets make installation easy and variable on the cabinet or mirror. And can be connect directly to 230V of household electricity without transformer.
【Perfect waterproof effect】:Due to the degree of protection IP44,Aourow LED mirror lamp is perfect to be a bathroom lighting.
【Solid material】:Housing in shiny nickel-chrome alloy steel with 30 cm connecting cable,effectively ensure the sturdiness and safety of the mirror light.Very easy to clean
【Pleasantly high brightness】:With 820 lumens, led mirror lamp shines in 4,000K neutral white and bright light, without yellowing or bluish cast, Aourrow led mirror lamp is also suitable for make-up and shaving.
【24 months warranty】:Customer satisfaction is our first priority, we provide customers with a warranty period of 24 months, that is to say, from the date of shopping, customers who are not satisfied with our products can contact us at any time within 24 months, we will give a satisfactory answer.

Scope of application:
In the bathrooms, but also in the hall and in the living area, where light is needed for mirrors.

Tips:
1.This light is not bright enough for the entire bathroom.
2.Ingress Protection IP44 (splash proof), LED bathroom lights can be easily installed in your bathroom or in other damp rooms, but note the mounting zones.
3. If you have any questions or comments about this product, please contact us by e-mail, we will answer you within 24 hours.
Free test and 10 euros off code is available, please contact us info@aourow.com for details. We will reply the emails within 24 hours.